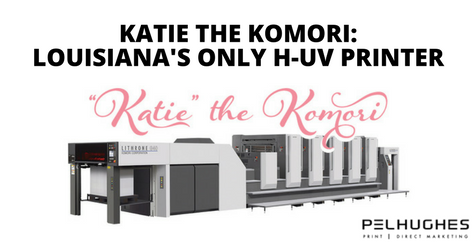 We've got a new family member at Pel Hughes, and she's a big beauty. She wasn't the easiest piece of equipment to get through the door,  but now that we have her, we're never letting go.
Please allow us to introduce you to….. Katie the Komori!
Her specialty is H-UV printing, and we're pretty thrilled to say that we're the only business in Louisiana offering her capabilities.
Why is this worth celebrating, you ask? Here's the deal..
The traditional printing process involves the application of ink to a surface. The solvents within the ink evaporate into the air as the pigment absorbs into the paper.
With H-UV printing, that waiting and absorbing and evaporating is a thing of the past.
In Katie's world, H-UV ink is applied to a surface and then exposed to UV rays, resulting in instantaneous drying.
Advantages of Immediate Drying
Less time. And we all know time is money.

UV curing systems shorten the time it takes to get from the receipt of materials to delivery because drying and finishing work (like cutting, die cutting, and folding) are performed "in line."

More space

When you don't need to wait for items to dry, you don't need drying space. Plain and simple.

Better quality

H-UV printing is a powderless process, meaning that powder granules won't be scattered all willy nilly.
Advantages for the Earth
Katie's H-UV system produces about one-fourth the

CO2 emissions

of a traditional UV curing system

No

ozone

discharged

Fewer Volatile Organic Compounds produced
Advantages for your Product
In addition to the time saving, environment-aiding functions of our new friend, Katie also just makes a better looking product. Rather than letting ink dry traditionally and slowly spreading out after application to the surface, her ink dries instantly – frozen exactly where it was placed. This means more precision and higher contrast for a crisp, bright image – images that stand up to weather and fading like no other printing product in history.
To put the cherry on top, special effects like coatings and glosses happen in-line, again cutting down costs while giving you the option to create truly tactile experiences for your customers.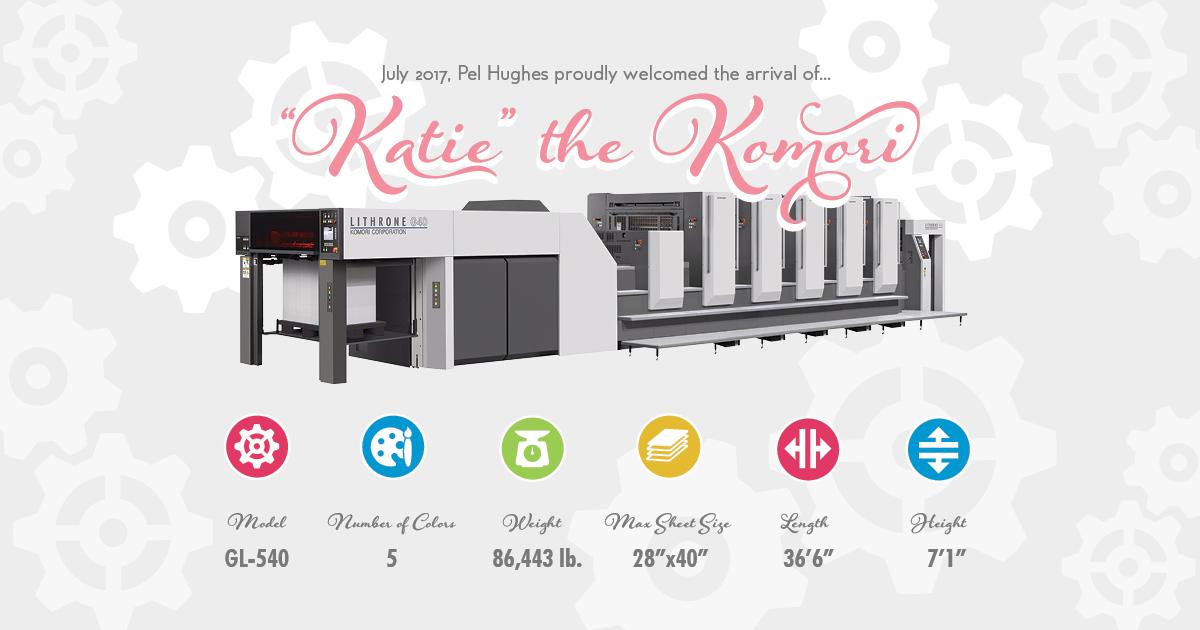 Translation: H-UV printing technology has the capability to print a world of promotional items for your business in addition to your direct mail and marketing needs.
Curious to see how she came together? Check out this time-lapse video!
Tweet
https://pelhughes.com/wp-content/uploads/2017/09/KATIE-THE-KOMORI-LOUISIANA'S-ONLY-H-UV-PRINTER-PEL-HUGHES.png
249
476
PelHughes
https://pelhughes.com/wp-content/uploads/2017/09/PH-LOGO-300PX-2.png
PelHughes
2017-12-26 07:03:37
2017-12-27 13:41:00
Katie the Komori: Louisiana's Only H-UV printer