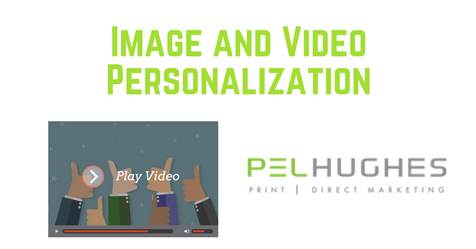 Personalizing your brand's marketing materials is more important now than ever before; people are overwhelmed with irrelevant junk messaging, and they're understandably quite sick of it.
So what's the answer to getting in front of your audience and NOT making them want to punch your brand in the metaphorical face?
Personalization.
According to Hubspot, almost three-fourths (74%) of online consumers become frustrated with websites when their content (including offers, ads, promotions, etc.) has nothing to do with their them – their interests, needs, etc.
This information should have you thinking about the huge opportunity this poses for your business if you can just…
a) reach out only to those who will find your message to be relevant to their life or business
AND
b) make impressive, personalized content
THEN
You will reach your customer in a meaningful way, increasing your chances of establishing a profitable business relationship.
So what can Pel Hughes do to help?
As it turns out, we're kind of really really ridiculously good at personalizing things. Crazy coincidence, right?
First up, we've got personalized images…
Our goal with these little guys is to place a name on an image so flawlessly that you can't tell if the cake really said "Andrew" in real life or not…
We want to get the head scratches going.
We want them wondering why we went to the trouble of making an entire pizza.
At Pel Hughes, we will design and produce images just like the examples above for print, digital, or both. Clients who really want to take advantage of the power of personalization will have the option of choosing between our pre-built image templates or recruiting our design team to create a custom image to meet your needs.
Next up, personalized videos…
Personalized video content is another fantastic opportunity to stand out to your audience and make a long-lasting impression.
How do we do it?
We can use any and all information that you have on your customers. That means information from sign up forms, customer lists, social media connections, and more can be seamlessly captured and included in a video format.
Basically, we have a video skeleton, and we fill in the blanks with your consumer – photos, video, audio, you name it.
Check out an example by clicking the link.
And why should you try out personalized video?
In short, it's because we're all a little bit obsessed with ourselves.
Honestly – remember those Elf Yourself?? The little video app that lets you stick your face in an elf costume and send dancing videos to your friends? Those are fantastic proof that people are much more likely to share something (and promote YOU and your brand) when their face is plastered all over it.
So there you have it. Image personalization and customization in a nutshell.
Want to try it out? Give us a call or shoot us an email today!
Tweet
https://pelhughes.com/wp-content/uploads/2017/10/Image-and-Video-Personalization-Pel-Hughes-Print-and-Digital-Marketing-New-Orleans-La.png
249
476
PelHughes
https://pelhughes.com/wp-content/uploads/2017/09/PH-LOGO-300PX-2.png
PelHughes
2017-12-12 07:59:00
2017-10-06 18:06:25
Image and Video Personalization