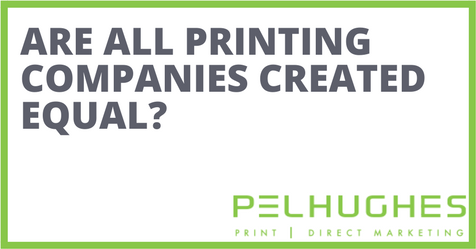 No matter how digital and tech-savvy you are at your marketing firm, you're more than likely still going to need printing services from time to time — for signs, for direct mail outs, for networking invitations, and much, much more.
On the surface, it might seem that all printing companies are created equal, but a little research on your end will show that's not the case. Whether it's unexpected fees or how long it takes for product delivery, there are big differences between companies, and it's important for you to recognize them.
What should you look for when choosing a printing company?


Here are some things you should do before choosing a printing service:
Read the online reviews: We all know that some people live to post needlessly hateful reviews online, but for the most part, online business reviews and customer testimonials can be very helpful when looking for a company. If you see a company with several great reviews and only one or two bad reviews, versus a company with several bad reviews and only one or two good ones, it will give you a better idea of which company is better equipped for your service needs.

Research pricing options: Don't you just hate saving money? Oh, you don't? You like saving money? Then you should definitely shop around for a good deal on your printing services. When it comes to printing companies, always read the fine print. Many printing services will throw in unexpected, hidden fees.

Look at the big picture: It may seem like a great deal — no minimum on ordering or free shipping — but how long will that free shipping take to get to your office? Or, what if the company won't give you a sample of what you are ordering? There are a lot of factors to consider, and a "bare bones" printing company might not be able to provide everything you need.
What questions should you ask?
When you consult with a printing company, ask them the following five questions for insight on whether they're the company for you:
Can your machine print on (this) type of paper and thickness? Insert the kind of paper you need.

Can your company match pantone colors?

What are the binding options? I want this specific binding. Does your company offer it?

Can I see a sample of something similar you have already done?

Will I see a proof before you print for me to give final approval?
We all know that it's not the easiest thing to do, but choosing a printing company is a very important part of your business. 
Tweet
https://pelhughes.com/wp-content/uploads/2017/11/ARE-ALL-PRINTING-COMPANIES-CREATED-EQUAL-PEL-HUGHES-print-marketing-new-orleans.png
249
476
PelHughes
https://pelhughes.com/wp-content/uploads/2017/09/PH-LOGO-300PX-2.png
PelHughes
2018-03-06 08:10:53
2018-01-10 11:19:22
Are all printing companies created equal?