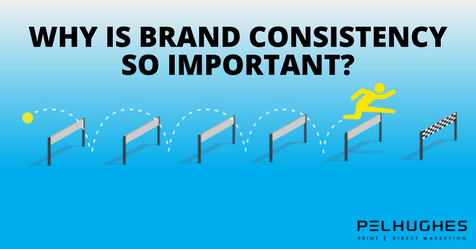 The American Marketing Association defines a brand as a "name, term, design, symbol, or any other feature that identifies one seller's good or service as distinct from those of other sellers."
Consistency is just something that is invariable, like your coffee habit.
And just like your coffee habit, brand consistency is completely necessary for the success of your business. There are endless reasons for this, but at the end of the day, it comes down to trust.
It comes down to your ability to satisfy your customer's need to feel safe in their decision to choose you over someone else, and the only way to feel safe in that decision is to know that they will get the same product or service every single time.
Every. Single. Time.
Beside the obvious practice of delivering that same end product every single time, you need to signal that consistency through brand elements that are predictable and consistent.
What are brand elements?
Name

Logo

Symbol

Package design

Characters

Spokespeople

Signage

Jingles

Slogans
Clearly, there are a few different brand elements, but they are generally those characteristics that people see, hear, touch, smell (basically experience in any sensory way) in relation to a brand. Their transferability and memorability play a huge role in how well people remember the product or service they represent, but their consistency is even more vital.
When a product has inconsistent brand elements, the consumer is left confused. Maybe the colors on two separate products or service advertisements were close but not the same. Or maybe the logo has too many variations in color and size for the consumer to be able to look at the product or service and say, "ah yes. That's brand X! They do great work."
That's called strong brand recall, and businesses need it.
Instead, your potential customer will be uncertain and go for a safer option, even if your product or service is better.
Consider some of the brands that have maintained the strongest brand leadership in the past 50 years: Disney, McDonald's, Mercedes-Benz, and others. Think about Cinderella's castle, the golden arches, and the three-point star.
What are your immediate thoughts? Do you know which brand they represent? Do strong mental associations come to mind
The strength and immediacy of your thoughts are proportionate to the consistency of the brand.
Brand Consistency – Get it With Pel Hughes
Pel Hughes knows the importance of keeping your branding consistent, and that's why we offer the ability to print all of your marketing materials in house.
That's right. We do it all right here, and that's after we've examined what you're already doing to diagnose what's working and what isn't. Then it's time to print.
And what better way to keep things consistent than to have the same team on the job for each new marketing venture?
We'll even monitor your online materials to make sure everything aligns. And when everything aligns, customer recall skyrockets, and so does your business.
Check out what Pel Hughes can do for your brand today.
https://pelhughes.com/wp-content/uploads/2017/09/Why-is-Brand-Consistency-So-Important-PEL-HUGHES.png
249
476
PelHughes
https://pelhughes.com/wp-content/uploads/2017/09/PH-LOGO-300PX-2.png
PelHughes
2017-10-24 07:04:39
2017-09-21 20:05:00
Why is Brand Consistency So Important?